6
min read
I like to think of myself as pretty "with the times" in regards to online scams. Don't open dodgy emails, don't give your personal information out, don't trust the estranged Prince from a foreign country who will make you a millionaire if you send him money…We all know about these types of scams.
What I wasn't prepared for this year while starting to do my Christmas shopping was fake toys scams. Yes, that's right. Not only do we have to figure out how to make money during a pandemic, maintain social distancing, and not forget the mask…But even now when I have resorted to doing my Christmas shopping online, I came across a toy scam. Sigh.
My daughter is 10 and has been pestering me since July that she wants a reborn baby doll for Christmas. If you are like I was you have no idea what a "reborn doll" even is; they are dolls made by artists, which have been painted to look and feel like a real baby. They usually have a silicone body and are pretty solid feeling, with many of them weighted to feel like you are holding a real baby. At the time I had no idea where to get one, or what I was even looking for so, I did what everyone would do and googled "reborn doll shop."
Reborn Doll Shop reviews: Scam or legit?
One of the top results was for Reborn Dolls Shop. The website looked very professional with loads of beautiful little dolls at affordable prices. My daughter and I spent weeks reviewing which one she liked, as she went back and forth between the dolls. The website itself looked pretty straightforward to me. It was professionally laid out, padlock at the top, options to personalize the doll for different prices, pay via Paypal, and a "No-risk shopping easy returns and 100% Satisfaction Guaranteed up to 365 days." The Reborn Doll Shop reviews on their website included pictures of little girls and women who were smiling and happy with their new babies.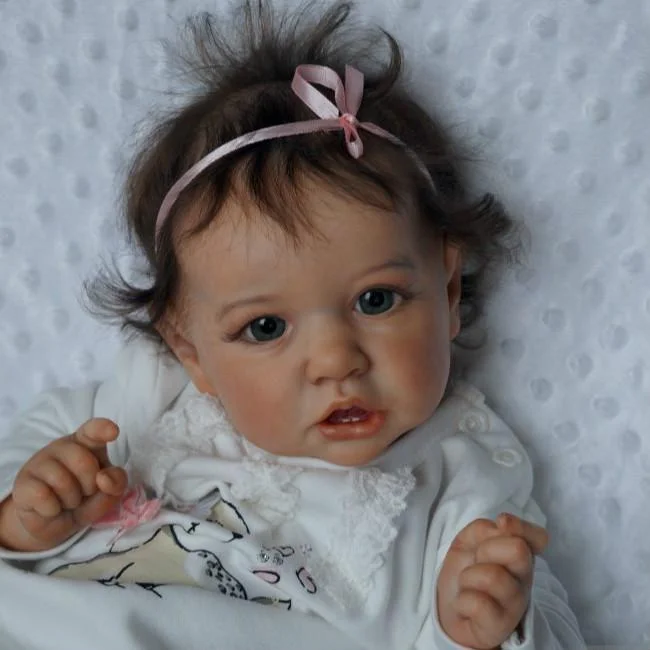 As the end of October approached, I decided to finally bite the bullet and pay for the doll my daughter had decided on. She was super cute after all and I knew my daughter would love her. To be honest, after hearing about it for months, part of me just wanted to buy it and get on with my other Christmas shopping. I picked the doll, went through checkout via PayPal, and everything seemed fine. That is until I checked the confirmation email, which revealed a completely different story. Unlike the professional-looking website, this email looked suspicious, with many words misspelled and improper English grammar setting off alarm bells.
Instantly worried, I decided to check on Trustpilot for reviews and my stomach dropped. This website had a 1.2 star review (because you can't give 0 stars). Hundreds of people complaining that this website is a scam. Many little girls left heartbroken from what they received. Most said it was worse than a plastic doll you could get in a bargain store, words like "dog chew toy," "gave my daughter nightmares," and "scam" sent me into a mini panic.
This was meant to be my daughter's main Christmas present, and the thought of her sad little face on Christmas was too much to bear. I double checked on the Reborn Doll Shop's Facebook reviews and the story didn't get any better. People writing horror stories of the "dolls" they received, how this is a known reborn doll scam selling babies that would give most children nightmares. To add insult to injury, one commenter stated how the scammers even have the audacity to post a link at the very bottom of their website warning buyers not to fall for "other" sellers' scams. It was sad to see all the parents who have fallen into the trap just trying to buy a Christmas present for their little girls.
Behold the reborn doll scam
Images of my daughter's disappointed face on Christmas morning flashed in front of my eyes, and I began to frantically contact my bank to stop the payment. At the same time, I was trying to contact PayPal, which is actually pretty hard considering how well known they are. I explained the situation to both parties, giving my evidence and that I believed this to be a scam. My bank instantly stopped the money leaving my account, but unfortunately, PayPal had already transferred the money to the scammer. At this stage, my only option was to raise a dispute with PayPal, informing them that there is unlikely to be a doll at all, if there is one, it will not be as described, and the scammer is using a PayPal loophole.
Basically, it seems they will send a doll that is nothing like what you ordered, then expect you to pay nearly the cost of the doll to post it back to China. Then they will offer you a partial refund meaning that even if you return the doll, you still lose a significant amount of money. So much for no-risk shopping that is 100% satisfaction guaranteed.
While I waited for PayPal to decide on this dispute, I investigated the situation further. I joined some reborn doll groups on Facebook, to explain what had happened, get advice, and see where I could purchase a real reborn doll for my daughter. One of the ladies who was more knowledgeable explained that the doll I was looking for was a "Saskia kit" and is popular in the reborn scammer lists. Another member stated that all the pictures on the Reborn Doll Shop's website have been stolen from artists of real reborn dolls in other places on the internet including Facebook, Instagram, and even Ebay.
When I googled "Saskia reborn dolls" and checked Google Images, I came across the exact image from the Reborn Doll Shop's website, which was originally listed on Ebay under "Bonnie Brown." Many of the other images can also be traced back to other places on the internet. To make matters even worse, this Reborn Doll Shop also goes by other website names including Dollish, using the exact same images in other "stores" that are really the same reborn doll scam set up.
A few days ago I had the unfortunate chance to see the suspect doll in person. When the package arrived, the box was badly damaged, with one end of the box severely crushed. Upon opening it, all my fears were realized.
This doll looked nothing like the cute image we had seen on the website. One of her eyes was pointing at a slightly different angle and her face was squashed in at the temples. She was so hollow that if you were to squeeze her arm she folds in like a cheap dog squeaky toy. The worst part is probably the fact she has a hairline receding faster than the rainforest. Oh. My. Goodness. This thing took the cake for fake reborn babies. It was like the picture on the website was the heavily filtered picture of a blind Tinder date, then you arrive and realize you have been catfished. Unfortunately, I have been catfished by a reborn baby doll.
How to avoid purchasing fake reborn babies
I am sure after it all settles down, I might find it a funny story to tell. But right now before Christmas, getting scammed with fake reborn babies or other toys is just a blooming headache. I am rushing around to find an alternative for my daughter while not falling into another toy scam, and having to dispute my case and resolve the issue without losing my money. This time around, I'm looking at the best rated reborn dolls available on Amazon, as input from other parents should help stop me from making the same mistake again.
My story is about a reborn doll scam, but I am sure there are many more websites out there with different fake products preying on disheveled desperate parents. In fact, the Better Business Bureau released an article talking about toy scams.
After such a long hard year, we all just want to get the Christmas shopping done, with whatever money we have scraped together, and these scammers are just rubbing their hands together. Unfortunately, it isn't just fake websites but also includes people selling things on Facebook, eBay, and even Instagram scams. My advice is to try to be aware when visiting new websites, no matter how professional they look.